Fashion Designer Fosters Community Spirit With An Eye For Empowerment
Jason C. Peters has been involved in community activism for 2 decades. Photo: John Zangas
Washington DC-Most fashion designers are in business to plug their clothing line and to promote their image. But designer Jason C. Peters, put his skills to work for a different purpose on Saturday. He held a public fashion show in Black Lives Matter Plaza centering DC communities with positive messages designed to empower and uplift them.
Peters brought his skills with him from New York to Washington DC to show that the Black Lives Matter Movement derives its primary power from the grassroots of its communities. His models converted the plaza into a runway wearing colorful signs along with their apparel as the drum group 'Drumline Elite' performed an array of inspirational drum tracks..
Following the show Peters gave out clothing packages to the needy in a philanthropic gesture to the community while Drumline Elite continued playing an extended ensemble of tracks it created.
Tyree, a spokesman for Drumline Elite said his group formed after graduation from Eastern SeniorvHighschool in Washington DC and had been together for several years. "We started out doing it for fun but we got plenty of smiles and we've been playing seriously for two years now," he said.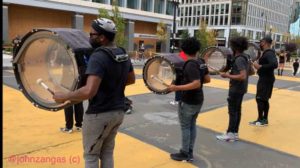 Peters wanted to highlight the importance of community involvement in ongoing political discourse and encourage residents to get involved directly in the political forces shaping their communities. He has been involved in activism for several decades and decided to merge his design talents with activism in response to the forces undermining Black communities. His idea to merge fashion with activism came to him after Trayvon Martin was killed in Florida by a security guard. What better way to do that than by dressing up models with the messages of resistance, he thought.
"It was important to do it right in front of the White House in Black Lives Matter Plaza to keep people inspired right before the election," he said. Peters said inspiring others and giving back to the community were his passions.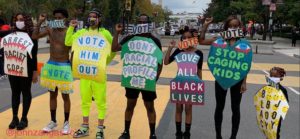 Models dressed in the signs they created. One wore 'Stop Caging Kids,' while another wore 'Black Hair Is Cool.' Several wore 'Vote' over their mouths in a statement of engagement by action not just words. Peters himself wore 'Vote Him Out.' Some of the models had no experience doing runway but were activists who wanted to get involved. They ranged in age from 6 to their early 20s. All models wore masks, in itself a fashion statement as every community continues to confront the COVID pandemic.
Peters has put on shows in communities such as Ferguson, New York, and Chicago and wherever communities have faced struggle with oppression.
"I belive it is important to fight for justice and equality for anyone who feels shunned by society because of the color of their skin," he said. He said he is looking forward to putting on more shows in communities facing challenges with police brutality and struggling with economic conditions.
He can be teached on Instagram @JasonCPeters and accepts donations in support of his philanthropic efforts to distribute clothing to those in need.